El pasado mes de julio tuvimos la oportunidad de asistir al Curso de Terapia Breve impartido por Karin
Schlanger en el Institut Gestalt. Karin es la Directora del Centro de Terapia Breve del Mental
Research Institute (MRI) de Palo Alto California. Licenciada en Psicología por la Universidad de
Buenos Aires, Master of Science en Psicología clínca y Marriage and Family Therapy Licence,
entre otros títulos.
El curso tenía el objeto de acercar un modelo terapéutico de terapia breve
donde se elimina el concepto de patología por completo, éste no es un elemento necesario en
la percepción del sufrimiento humano. En su lugar, se explica la persistencia del sufrimiento
como consecuencia de la repetición de un modo particular de manejar dicho sufrimiento,
la "solución intentada". Si bien esto suena sencillo, es muy difícil de evitar buscar la patología,
por una cuestión tradicional. Este modelo psicoterapéutico se aleja de la tradición causal del
origen de los problemas.
Principios básicos de la Terapia Breve
1. Constructivismo
2. Teoría de la comunicación humana
3. El problema está en las soluciones intentadas
4. Hablar el lenguaje del cliente y tener una actitud de escucha
5. Mantener una postura de no estar en posesión de la verdad por parte del terapeuta
· El Constructivismo, y concretamente uno de sus creadores, Von Foerster (1973) nos diría que:
"el medio ambiente, tal como nosotros lo percibimos es invención nuestra". Esto nos hace pensar
que cada persona construye su propia realidad en función de su experiencia, factores biológicos,
sociales, culturales etc.. Por tanto los problemas van a variar de una persona a otra según su
sistema de significados. Ello nos indicaría que lo importante es que el terapeuta "aprenda" a
escuchar la realidad del cliente.
· La teoría de la comunicación humana: los actos comunicativos no son lineales o unilaterales.
Existe un intercambio de significados en el que "atribuimos significado a las conductas del otro
y de ahí se tiene la experiencia subjetiva de comunicarse". La interacción que se da entre cliente
y terapeuta es de respeto, y desde este respeto, el mensaje que se manda al cliente es que su
realidad es válida y él es el que mejor la conoce.
· El objetivo de la terapia es el cambio, efectivo, eficiente y preferentemente en un tiempo corto.
El cliente sabe cual es su queja y sobre esta se va a trabajar. "El terapeuta no se ocupa de los
problemas sino más bien de los informes o descripciones de los problemas que hacen los clientes.
Por tanto la queja es el problema y no hay que ir a buscar más allá, ni encontrar otras explicaciones
más profundas. Si no hay queja del cliente no hay problema. Se trabaja el aquí y ahora, de ahí que
los análisis y los porqués no nos interesen. Se trabaja el presente ya que el pasado es inmodificable,
y el único objetivo de la reinterpretación del pasado es poder influir sobre el comportamiento
presente. Así se va a preguntar por cual es el problema, intentando hacerlo lo más concreto posible,
es muy importante saber cual es la queja del cliente y de que manera se hace problema en la vida
cotidiana de la persona, que soluciones ha intentado para resolverlo. Por esto, el terapeuta breve
hará un análisis exhaustivo de las soluciones intentadas anteriores, para, posteriormente, poder
buscar una alternativa de solución, esto es un cambio en la conducta que mantenía el problema.
o La concreción de la queja del cliente, operativizada en términos interaccionales y concretos
La intervención consistirá en escuchar qué ha estado haciendo la persona para solucionar

su problema y que pruebe a hacer algo diferente. no es una cuestión de lógica, sino de que

algo funcione para el cliente y su entorno.
o La queja es la queja del cliente, sin que el terapeuta interprete otros problemas alternativos

y/o adicionales
La ventaja de la terapia breve es que no existe la asunción previa, sino que va a ser el propio

cliente el que construya su propio molde mientras el terapeuta escucha y reincorpora

continuamente lo que el cliente trae para poderle conducir al cambio
o La ausencia de búsquedas de porqués
No se considera necesario conocer las causas, sino como se esta haciendo para perpetuar el

problema. no se centra en explicaciones, sino en descripciones de la interacción que no

está funcionando
· El objetivo de la terapia lo marca el cliente y el grado de satisfacción con la misma lo mide él
o En terapia breve la persona es la que decide que es lo que ella necesitaría cambiar para

estar satisfecha, y para que el terapeuta lo sepa tiene que preguntárselo. si no es así

corremos el riesgo de lo que el cliente y el terapeuta esperan de la terapia sean cosas

diferentes y los esfuerzos de ambos se pierdan por distintos caminos.
· Milton Erickson es uno de los inspiradores en el facilitamiento del habla y la escucha. Hay que
estar atento a todo lo que el cliente trae a consulta. Esta escucha hace posible el uso del lenguaje
del cliente, que nos permite movernos mejor dentro del sistema de referencia de éste.
· El cliente es el experto de su vida, la única postura que el terapeuta puede tener es la de situarse
por debajo frente al cliente. esto implica aceptar que no se sabe algo hasta que el cliente no nos lo
haya dicho y que es él el que nos irá abriendo el camino sobre cuál es su problema, sus objetivos
y su forma de verlo.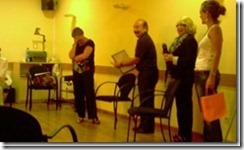 Me permito cerrar este breve apunte del curso con la recomendación de Karin
"Buena suerte y…recuerden escuchar al cliente"

Warning: require(): Unable to allocate memory for pool. in /usr/home/grup7psicolegs.com/web/site/wp-includes/template.php on line 690 Warning: require(): Unable to allocate memory for pool. in /usr/home/grup7psicolegs.com/web/site/wp-includes/comment-template.php on line 1474